Initiative ARSIS, through the Safe Housing Service, has been providing support for three children. Without parental care or facilities, R.U. (11 years old), A.U. (14 years) and M.U. (16 years) have received assistance at a very difficult time in their lives, as the mother was suffering from mental health issues, the father was an alcoholic and they lived in poor living conditions.
The parents, who were provided with recovery services, were approached in cooperation with the local structures, and the children were placed in the House of Colors Centre.
During their stay at the centre, children underwent specialized exams and tests, such as mental health, dermatological and dental tests. They participated in a range of everyday activities and in psychological sessions. This method has had a significant positive effect on their physical health and mental well-being.
"Previously, I cried all the time, and couldn't sleep. I was given the opportunity to treat my teeth and skin during my stay at the centre. Now, I can eat without discomfort," said R.U.
All of these services provide a clear picture of the needs of vulnerable children and an immediate solution for them to achieve the desired change and improve their lifestyle.
Initiative ARSIS through this programme is raising awareness among children, families, the community and all institutions where intervention is being applied, in the process of identification, resolvement and developpment of a constructive approach to children and families wherever they are.
Cooperation between the municipalities of Shkoder and Tirana, the social services and the Initiative ARSIS enabled a young victim of exploitation for profit to be identified and cared for. 'Deni' Xh. (name changed to protect his identity) has been receiving all the necessary assistance for his integration back into society.
The case of the Deni, a minor from Shkodra, one of the victims of exploitation on the streets of Albania's cities, was first identified by Tirana Municipality field teams. Malnourished and with signs of physical abuse, D. was taken into the immediate care of the Safe Emergency Shelter Service where he received the required support services: housing, shelter, health care, food, clothing and, most importantly, psychological support.
Initiative ARSIS has worked closely with him and his family, in collaboration with the child protection structures in the municipalities of Tirana and Shkodra, to ensure proper treatment, management and full integration of D. back into society.
After complete support regarding hygiene, health care and psychological service, the child was returned safely to his family. Fourteen-year-old Deni says "I wanted to remain close to those people who are protecting me and who understand me. I thought they were protecting me but they tried to take advantage of me all the time."
Deni's family was assisted by Initiative ARSIS with the support of basic services. He was brought back to school with the help of child protection structures. Social worker Kristjana Bashaj says, "In the management of this boy many actors were involved, whose approach in the centre helped him feel the necessary security and belief that he would make it."
Continuous contacts are established with the child and the family in order to recognize his needs and to resolve problems that occur during reintegration. Deni maintains contacts with the organization's psychologist for the treatment of the traumas he has experienced. He says, "Now I understand and know my rights. I know I am a child; I have to go to school, and I don't have to work on the streets".
Cooperation between child protection structures and organizations in the care of children in street situations is seen as a promising model for preventing the risk of trafficking. The goal of Initiative ARSIS, with the help of UNICEF Albania, is to further reinforce the child protection system by creating a coordination network for the prevention and care of all cases of children at risk of trafficking.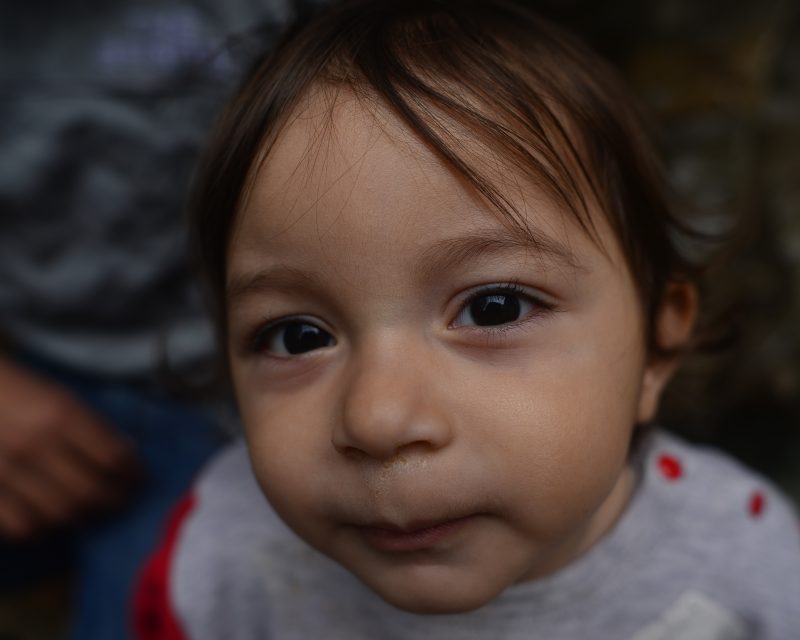 Adrian filled our hearts with joy, as he was holding hands with his parents, finally reunited!
Three years ago a young couple struggled with much life difficulties and through their ups and downs, a child was on its way. The couple split up and the young mother decided to continue alone the pregnancy by interrupting all contact with whoever will suggest her to abort. She never had her mother beside her, and was determined to be one! He left and she suddenly had to provide life for herself. When the moment came, Gerta had no support, be it economically, family comfort or partner by her side. With a heavy psychological condition the only way-out she could think of, for her newborn was the residential care. At least, just enough time so that she could empower herself.
From time to time Gerta went to visit her baby boy, sometimes family followed, and sometimes her partner did. In one of the visits Nisma ARSIS Team found their way to them, and were willing to go along with, through their family reunification process. It was a long path to be followed, but the family did not give up, and the team did fully support. The couple was accompanied to each respective institution, free legal and administrative support was offered to them in order to accomplish each state criterion. The family was assessed and periodic family visits made possible that the team could evaluate the family's progress. Gerta and her partner were providing enough financial income, so all they requested was psychosocial support, which was made available through an expert's team of Nisma's social workers and psychologists. After many procedures and practices..
..on 22 August 2019 Nisma ARSIS Team, the residential care institution staff  in Shkodër and all the child protection officers engaged on the process, witnessed the happiness in Adrian's eyes snuggling into his mother's chest!